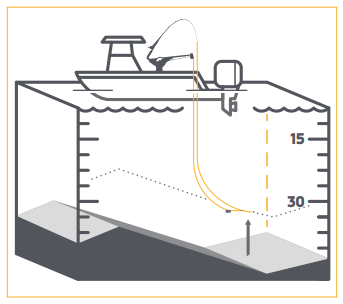 The Bottom Track mode is designed to help you fish consistently near the bottom. This mode of operation requires an optional Cannon Transducer (item number 1491072) attached to your Optimum, Optimum TS, Digi-Troll 10 or Digi-Troll 10 TS downrigger and mounted according to the instructions in the manual. For Optimum and Optimum TS downriggers, you may also network to a compatible Humminbird fish finder to use the connected Humminbird transducer as the source for depth data and to enable Bottom Tracking. In this case, you would NOT need the separate Cannon Transducer accessory.
In the Bottom Track mode, the downrigger maintains the weight at a fixed offset distance above the bottom. In order to avoid continuous weight adjustments due to minor changes in bottom depth and boat motion caused by wave action, you have the ability to adjust the sensitivity of the weight. You can also define the maximum depth that you wish the weight to go to, regardless of the bottom depth.
For additional information on using Bottom Tracking click on "How to use Bottom Tracking" below. You can also watch the video below.
Manuals and Resources